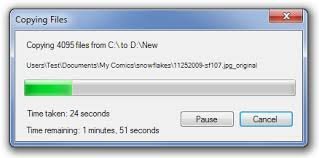 Many of Android users might be finding it hard moving their applications and games to an SD memory card but after reading this article you will surely learn how to move apps or games to an SD memory card.
Many smartphones have enough built-in data storage that you might not need an SD card at all but if you have installed many apps and games in your phone and wants to free up some space then you may consider moving those heavy apps and games to a memory card but the question is how do I move apps and games to an SD card.
I have seen many searching for apps that can enable them to move their apps and games to their SD memory cards but the truth is that you might not be needing any app to be able to move your mobile phone files to an SD memory card, all you need is to change some settings on your phone.
How to move apps and Games to an SD card on your Phone
If you set up your SD card as Internal Storage, you can move some apps to the card This leaves more space for apps that can't be moved to the card.
Note: Not all apps or games can be moved to an SD card because some of them might need to be installed on the phone memory to be able to operate normally.
Go to Settings > Device > Apps
Choose the app you want to move to your SD card
Tap Storage
Under Storage Used, tap Change.
Pick your SD card
If you are having a problem moving your mobile phone applications and games then let me know for more help but remember once you move any apps or games to an SD card it will no longer work without the SD card attached to the phone.
HOW TO EARN $1 EVERY 2 MINUTES OR $55 DAILY ONLINE
CLICK HERE TO GET FREE TUTORIALS ON MAKING FREE CALLS, WATCHING DSTV FREE ETC
HOW TO MAKE N100,000 T0 N500,000 MONTHLY
LEARN HOW TO MAKE N250,000 MONTHLY ONLINE IN NIGERIA
How to Make Huge money From Expired Domain name click http://cashnaira.com
CLICK HERE TO DRIVE UP TO 20,000 REAL NIGERIAN TRAFFIC DAILY TO YOUR SITE
A NEW INTERNET COMMUNITY IS LAUNCHED! CHECK IN AND ENJOY FREE LESSONS
FREE GUIDE! BROWSE FREE, MAKE FREE CALLS, MAKE MONEY ONLINE ETC
CLICK HERE TO EARN $45 – $100 DAILY ONLINE WITH YOUR FACEBOOK ACCOUNT